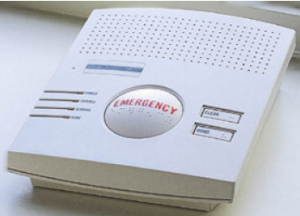 We are currently running a special that will waive the installation fee for Personal Emergency Response Systems (PERS) (also know as Helpline, Lifeline or Life Alert) if you are switching to us from another vendor.  Being a local provider enables us to give prompt attention to customer support.  We take pride in being able to give personal, immediate attention to your loved one who is using our Helpline.
Our clients for the PERS Helpline have appreciated our willingness to go the extra mile by providing services such as installing a phone jack for the PERS Helpline at no extra cost.  In providing service to much of the state of Arkansas and working hand in hand with Area Agency on Aging with the PERS Helpline, we are proud to assist many who wish to live at home, yet have the security of knowing they can get help with the touch of a PERS Helpline button.
Helplines, Lifeline, Personal Emergency Response System (PERS) features:
Automatic notification when button is pushed
Emergency notification includes dispatching emergency personnel as well as notifying family
When the device is activated, an emergency response team is connected to your device
Two way voice communication between the response team and you
Personalized call list in emergency situations
Power failure resilient battery backup
Waterproof pendant and or wrist band
Optional Smoke alarm that can be connected to the PERS system to alert the response team in an emergency.
Please call us at 800-698-2079 or 870-698-2079 for details or visit the Contact Us page.