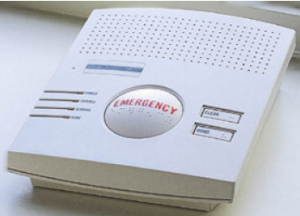 Alarm Protection Services offers Help Line, also known as Personal Emergency Response System (PERS) lifeline or life alert.  Help Line is an affordable service to help you or your loved one enjoy the safety, security and independence they deserve..  Help Lines provide help 24 hours a day, 7 days a week.  Alarm Protection Services will check your unit monthly to ensure it is functioning properly.
Easy as 1-2-3
When you need assistance, push your personal activator
The two-way voice console unit automatically dials HELP LINE's 24-Hour On-Call Center
Our HELP LINE operator will speak with you through the console unit to identify the assistance you require.  Even if you are unable to speak or can't be heard, the right kind of help will be sent immediately.
Help Line Features
Ambulance, Fire Department, Police, friends and family are dispatched in an emergency
A Medical Monitoring REsponse Team connects to you when the device is activated
Waterproof push button pendant and wrist band push button options
Hands-free two-way voice communications between the Medical Response Team and you
UL approved device
Personalized emergency call list
24-hour rechargeable backup battery for power failures
Optional smoke alarm can be connected to your system to alert the response team of a smoke or fire condition
***We also now offer GPS PERS that do not require a hardline phone!
Help Line Candidates
Anyone who is actually or potentially at risk for medical, personal, environmental or physical reasons
Any at-risk person left alone for extended periods of time
Socially isolated individuals
Anyone requiring assistance performing activities of daily living
Anyone concerned about their personal well-being
New mothers who may need assistance for their newborn child
Postoperative patients recovering at home